Expert Talk with Aaron Theisen
THE BACK STORY 
I met Aaron Theisen, published hiking and guide book trail author, travel writer, and award-winning photographer, through Melissa, a friend and outdoor enthusiast. She hosted a hiking and yoga session in Montana.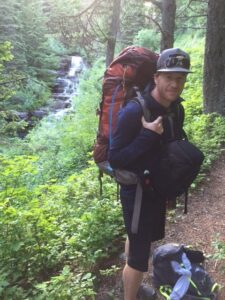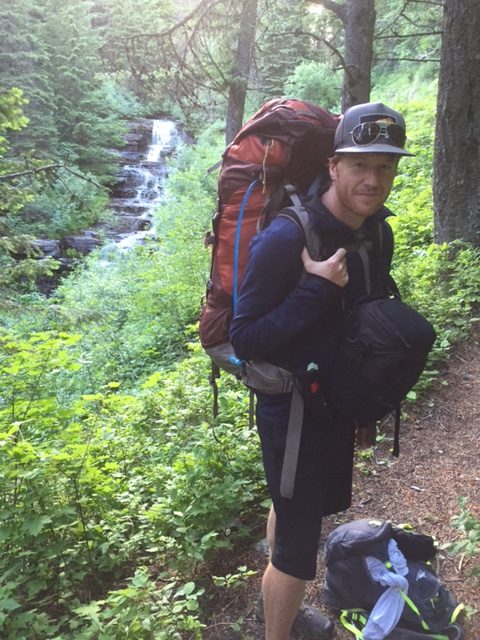 Aaron hiked with us, and photographed us doing yoga on top of the mountain. He then stayed overnight to take an award-winning photo at sunset. Really, the photo won an award a few months later.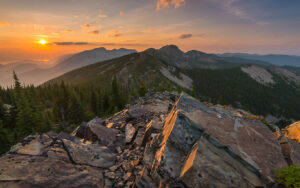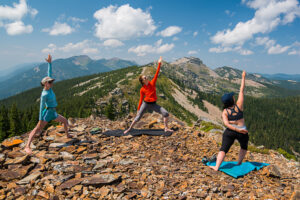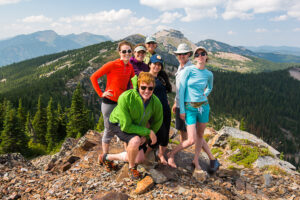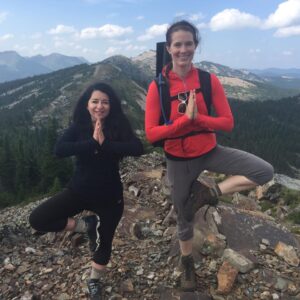 Last summer, I had the pleasure of hiking with Aaron while he was capturing hikes for his next book Day Hiking Glacier National Park and Western Montana, to be published Spring 2018 by Mountaineers Books. More on the hilarious hi jinx of that hike later, but for now – here are a few of the highlights from my talk with Aaron about the profession of travel writing.
TRAVEL WRITING: THE SKILLS THAT PAY THE BILLS  
When people approach Aaron about how to get into travel writing he quite often tells them not to quit their day job…but it's not because he wants to keep all the travel writing gigs for himself.
Aspiring travel writers often approach the profession from the perspective of – "I want to get paid to vacation," explained Aaron. Don't we all? It might seem self explanatory, but step one to being a travel writer, is being a decent writer. You also need to be "on" while you are traveling…capturing all the necessary details for your piece that you are being paid to deliver. Your client/the publication is going to expect that piece of literary material from you that is going to help promote their business. That's the reality of travel writing. It's still a job.
So…questions for you to ponder:  is writing a core skill? Do you have other skills that you could use? For example, my brief stint of living in Las Vegas had me dating a black jack dealer (another story), and he used his black jack dealing skills to tour the world via gambling cruise ships that went to Europe, the Caribbean and more. What skills do you have that could send you packing?
ACTIVE INTEREST  
Aaron was a writer in the field of science before he became a travel writer, he also had an active knowledge of the outdoors and hiking. He had an active passion for nature conservation, preservation, and exploration. The operative work is ACTIVE.
Are you active in your passion (that you want to write about)? If not, you need to be – that's how you create connections, and build your subject matter expertise.
CREDIBILITY & CONNECTIONS
Aaron got his travel writing start with a local conservation league in the Pacific Northwest. This is significant for a couple of reasons. 1. His knowledge, and active interest is what got him the gig. Again, he was proactively engaging in hiking, and had a knowledge of the surrounding trails. 2. He sought out an organization that was relevant to his interests.
 GETTING PAID FOR IT
Aaron's philosophy on writing is that you should always get paid something. Even if it's a small amount. If an organization has a budget for an office, staff and utilities, they should have a budget for writing and photography.  His first writing assignments for the conservation league didn't pay much, but he insisted on getting paid something to hold himself accountable to doing the writing.
In a world where so many people want to get social media famous, or just get exposure, this was a new point of view for me. There are times when I still think it's beneficial to do something for the experience, and build up to being paid…and there are times when it's charity…but more often than not, you need to get paid. It's a sign of respect for your contributions.
DOLLARS & CENTS 
So, how much can you make being a travel writer? Anywhere from 5 cents to $1.25 a word. You can also be paid by the article, upwards of 1k, even $1500 per article. This is of course on the high end. In some cases, your accommodations and travel will be paid for, so you can factor that into the "income" or at least, write it off as an expense.
THE GREAT ESCAPE
Aaron focuses on hiking trails for his books, and places where very few people have ventured, so his overhead his low – gas, a tent, a bear can (I will explain what that is in the next post), and some warm layers for those chilly nights on top of a mountain. That ability to escape sounds like payment enough on some days, I'm sure. And no doubt why we all want to be travel writers…