If there was ever a win win win. Every cent of the selling price of the Taraji P. Hensen VIVA Glam Lipstick and Lipgloss goes to help those living with and affected by HIV/AIDS.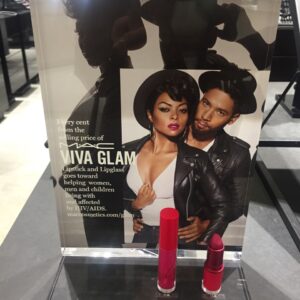 What I love about this product – the color of this matte fuchsia (with pearl) is irresistible and versatile.  Sometimes retailers pick a really gimmicky product when they donate to charity. Not MAC Cosmetics. This is the good stuff. (Personal win – it's also a color that I would buy anyway.)
Viva Glam also makes a great gift or stocking stuffer for that friend that isn't afraid of a bold lip. You'd be killing three birds with one stone – doing something nice for a friend, a potential stranger, and for you. Giving generates endorphins – just like a great workout or other…activities.  😉 For under $20, that's a whole lotta love right there.
Viva Glam my friends.