Volunteering @GRB Thursday, Aug. 31.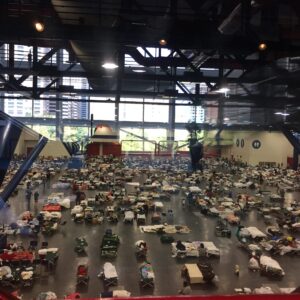 I went at midnight (shhh no one tell my mom) and was turned away, too many volunteers. I went back at 9:30 am on Thursday and stayed until 10:30pm. So much to do!
There was a short line at the door. I was padded down and screened. Once in, no one asked you any questions. I found the volunteer area, signed in (it took a few seconds), and then they had you participate in a brief orientation. I had signed up online, but they had a backlog, so showing up worked.
Like at NRG Center, you waited in a volunteer pool area, and a volunteer or worker would come by and ask for however many volunteers they needed for the task at hand.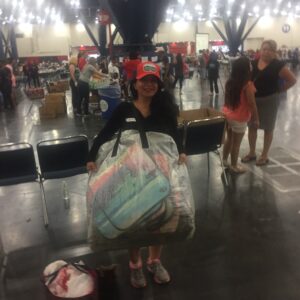 I was asked to film a video in Arabic letting people know that they shouldn't be afraid of the government…that they were Houstonians…and that they were welcome to seek refuge. <3 I also was a floater in one of the halls, making sure people had what they needed, and they were comfortable. I helped fold cots as people were discharged, and also thew away the pillows, blankets, etc. that people had used, but left after they had been discharged. Once the items are used, they are considered contaminated, and must be thrown out.
People either didn't take the items because they didn't want them, or had no way of carrying them. I had mentioned in a FB post that tote bags/shopping bags are a great donation item in these cases, and to homeless shelters in general as well.
By the end of the night, they had also run out of blankets and baby powder. Tons of diapers, but no baby powder.
There was still a mountain of items being sorted through. And an army of people sorting…wow. When I was at NRG Center, there was a wedding dress in one of the donation boxes…sigh.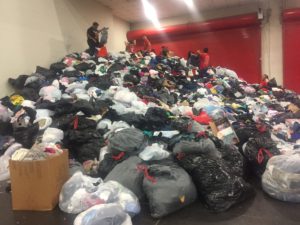 Future: This is what I've learned to be prepared for the future. Things that are needed, but people don't think about: new underwear, socks, magnifiers for reading, tote bags, baby powder, feminine hygiene products. Sort and label all items.
At the time, they had people staying in multiple halls still. A, B, C, D… but they were consolidating them. We helped in that effort.
Phone: There is a program called Safe Link for individuals with a lower income that could help them with a phone for limited use. 350 minutes, unlimited texts, and a small amount of data. It's paid for by one of the taxes on our phone bills. I'm going to make a separate post about this. This is a great program year round, not just disasters.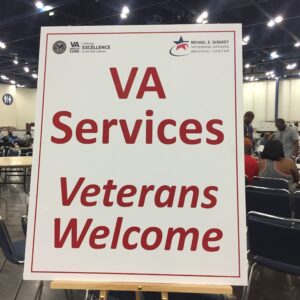 Veterans: At GRB, there was a table just to help veterans with food, housing, and transportation.
NRG Center: I started at the NRG Center on Wednesday because I read that Arabic speakers were needed. There were so many people, that people were turned away and told to come back at 4pm or midnight. I signed in with all of the volunteers,  and then all of the foreign speakers were there at the moment were asked to go to intake to sign in with them. They told us they would call or text us if they needed us, so I went to look around. In the area that people were getting their clothes, bedding, etc. the guests didn't have bags to carry their items. They were using diaper boxes, or their bare hands, That's what confirmed my idea about donating bags….
The <3 <3 <3 and the Fun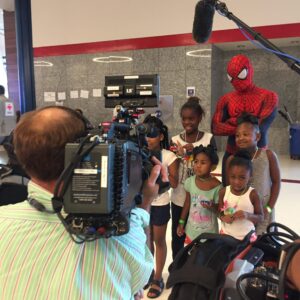 There were sooo many people there to help  make the environment better! The stilt walkers that came out for the kids. Face painters…Belly dancers. Even Spiderman made an appearance! The Houston make up artist (MUA) and hair FB group that came out to give hair cuts, styles, and my favorite!!!! blowouts, OMG!!! Sprint and Verizon where there charging phones! And I heard Verizon was helping to dry out water logged phones. People were putting their gifts to good use. So inspiring! If you think you have a skill that doesn't come in handy…think again!
Much gratitude as well for the people feeding volunteers, and the wonderful food. Thai Cottage provided lunch, and Sleek Chocolatier provided chocolate covered waffles the day I was there.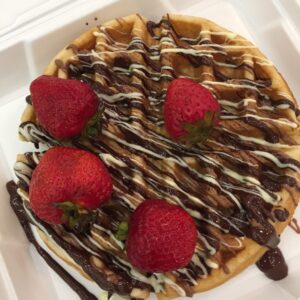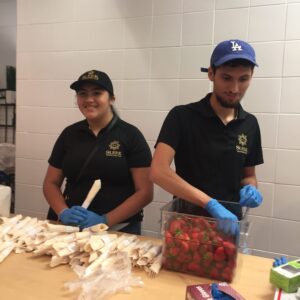 With everything shut down in downtown, it made it easy to plow through a day of working when you have access to food and drinks. Sleek Chocolatier was a family affair, and the littlest of them was out there front and center making sure we all had a waffle. He was quick to give me the lowdown as to which family member owned which location…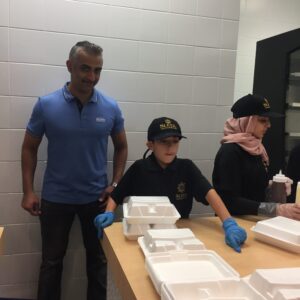 He reminded me of this little girl at her parents liquor store…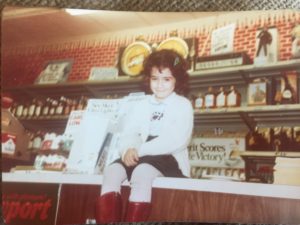 Support your local businesses, y'all!!!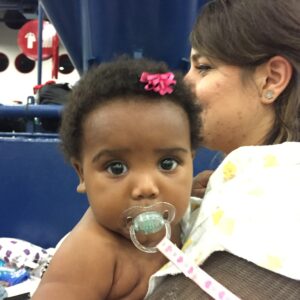 I also had the pleasure of talking to the neatest people. A woman from Minnesota that served as the first parole officer in New Orleans…the Amarillo police department that could each benchpress five of me…the cutest babies ( I was given permission to snap her pic)…a 75 year old woman named Lillian that was praying for all of us single ladies out there (including herself).
Wow! Wow! Wow!
This weekend, I am trying to see what else I can do. It's going to be tough, balancing being back at work, the what nots of life, and volunteering….but it could be way tougher… So, it's time to get to work.