Now open in the Houston River Oaks District (ROD), Amorino Gelato Al Naturale.
The scoop (no pun intended): All natural gelato and sorbet, flown in from Paris, for ~ $5 for a small cup or cone (up to 3 flavors) – a worthy treat. And… if you order a cone – it will look like this: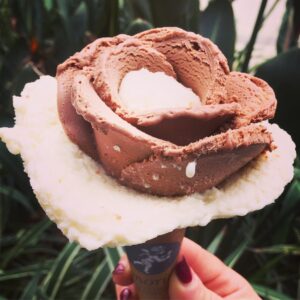 This cone is a combination of coconut, and a crowd favorite – L'Inimitable (chocolate and hazelnut).
Other offerings: Crepes, waffles, coffee, and macarons. ( I haven't tried anything other than the gelato. But I'll be sure to report back. Now, I have an excuse.)
A calorie free offering: the Amorino Instagram.
Great place for: families, dates, catching up with friends, solo… It is small, and there's not much seating, so big groups will have to get their treat and move along.
I discovered Amorino Gelato Al Naturale at the Las Vegas Town Square, a few minutes from the strip. They have since closed that location and opened two others.
Current Las Vegas locations:
(on the strip) The Linq
(off the strip) Las Vegas Premium Outlets North
Amorino USA locations (They are spreading quickly across the country.)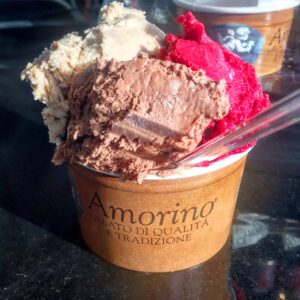 I've loved every flavor I have tried, with the exception of banana and lemon. They were just too lemon and banana-y.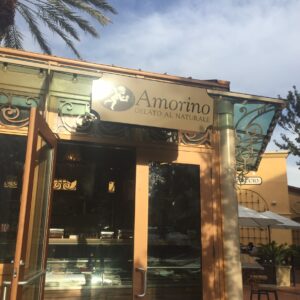 The now defunct Las Vegas Town Square location.
Single Woman Confession: The French men that got the initial Vegas location at the Las Vegas Town Square up and running – as swoonworthy as the gelato is delicious.
Remember the Las Vegas Town Square: As a side note, when I lived in Las Vegas, I loved the Town Square. They have a myriad of options if you need "supplies" for your Vegas vacation – Whole Foods, Sephora, Apple Store, Victoria's Secret…you know, Vegas vaca necessities. Your hotel might even shuttle you over there.