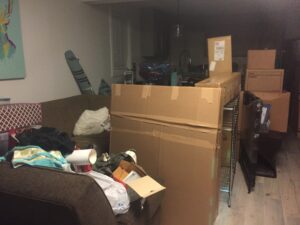 When I moved away for a job with retailer Coldwater Creek, I wasn't ready to move my whole life to Idaho quite yet. I stored my furniture and household items in Texas until I was ready to make the big decision whether I was going to stay in the Pacific Northwest or not.
Well, the company went under, and as much as I tried to stay out of Texas, I found myself back in my hometown. Once I was on my feet again and renting a one bedroom apartment courtesy of a friend, it was time to reckon with all of that stuff I put in storage, and apply the same process I had applied to eliminating 4000lbs of clothes, shoes, and accessories that I did in Idaho.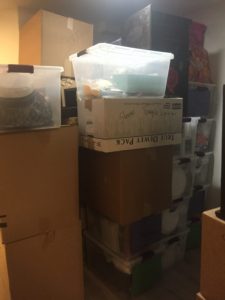 I had to leave town so quickly for my new job, I had no time to purge before I left. And trust me, I needed a Texas-size purge!
To add a twist to the whole situation, my townhouse that I was living in prior to my move, was the equivalent of a 2+ bedroom place with ample storage.
If one could ever feel like a puppy whose nose was being rubbed in his own "stuff",  it was me. I had three small storage units to deal with. Why three units? I thought I was going to rent my place out furnished, so I only stored household and occasional furniture first. When that didn't pan out, I stored my big stuff. And when I returned from Idaho, I stayed with a friend initially, so I needed yet another unit for my items that came back from Idaho. Talk about a mess.
So, this was my process when I finally moved into my one bedroom.
I applied my "how to get out of a rut, reinvent yourself, and lose 4000lbs" method. (If you don't love it, can't keep it, etc. see the link above)
I brought in the big stuff first, couch, table, bed, etc. thereby unloading one unit. I sold whatever I didn't want to keep via Offer Up, Craigslist, flyers at church…
Time for unit Number 2 – repeat steps 1 and 2
OK, so I got to a point, where there were items I wasn't ready to part with, but I didn't want to cram into the apartment, such as the chair that matches my couch. I could have fit it in, but it would have disturbed the flow I was going for – which was open, airy and clutter-free.
Swaparoo time. Unit 3 came to my apartment and what I couldn't fit in the one bedroom went back to storage.
So, in the end I went down from three storage units to one well-decorated apartment and one 10×10 storage unit. I decided that I wasn't ready to be a monk quite yet, and $100 a month wasn't worth the anxiety. I also loved living clutter free.
And here, you are: the after pics!
Photos courtesy of: Aker Imaging